Being board certified in civil trial law means that Charles know how to specifically fight your civil legal battle.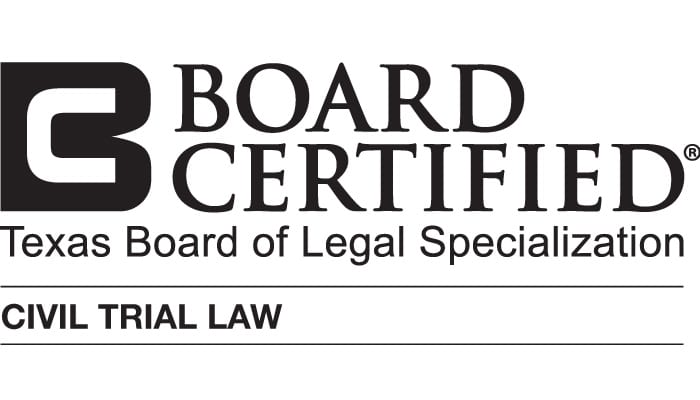 "Helping balance the scales of justice."
What Types of Problems Require a Civil Trial Lawyer?
Debt Problems
We can help with issues concerning creditors, debtors, and fair debt collection.
Commercial Issues
We help businesses and business owners with contracts and general commercial issues.
Consumer Protection
We protect consumers that have been the victim of unethical or dececptive. business practices
Other Civil Issues
We also provide counsel for landlord/tenant disputes and general negligence cases.
Frequently Asked Questions
How many attorneys are currently Board Certified in Civil Trial Law?
There are approximately 1,250 Texas attorneys now Board Certified in Civil Trial Law.
How does the consumer know whether an attorney is Board Certified in Civil Trial Law?
A Board Certified attorney is entitled to indicate certification on their business card and letterhead by stating they are "Board Certified – Civil Trial Law – Texas Board of Legal Specialization." They may display the Certificate of Special Competence awarded by the Texas Board of Legal Specialization, and list the certification in legal directories and telephone listings under "Attorneys – Board Certified". You can also verify that an attorney is currently Board Certified by using the Online Attorney Directory on the Texas Board of Legal Specialization website.
How long does an attorney remain certified in Civil Trial Law?
Certification is for a period of 5 years. To remain certified after that time, every 5 years the attorney must apply for re-certification and meet the requirements for continued experience, peer review and continuing legal education.
What are the general requirements for Board Certification in Civil Trial Law?
All Civil Trial Law Board Certified attorneys must have:
Been licensed to practice law for at least 5 years
Practiced civil trial law for at least 3 years
Devoted a minimum of 35% of their law practice to civil trial law
Handled a wide variety of civil trial law matters to demonstrate experience and involvement
Attended civil trial law continuing legal education seminars regularly to keep their legal training up to date
Been evaluated by fellow lawyers and judges
Passed a day-long written examination
What special requirements must a lawyer who is Board Certified in Civil Trial Law meet?
A lawyer who is Board Certified in Civil Trial Law must have prepared and tried significant civil cases. In addition to handling these trials (which must include jury trials) the lawyer must have extensive knowledge of the law of evidence, procedure, and other substantive law involved in the trial of civil cases.
Need Help?
If we didn't answer all of your questions or you're ready to schedule a consultation, feel free to drop us a line anytime.